Main Products
Shandong Taihe Technologies Co., Ltd.
TEL: +86-632-5113066
FAX: +86-632-5112055
E-mail: info@thwater.net
ADD: No.1, Shiliquan East Road, Shizhong District, Zaozhuang City, Shandong Province, P.R.China

CAS No. 40372-66-5
Molecular Formula: C7H7O9P•Na4 Molecular weight: 358
Structural Formula: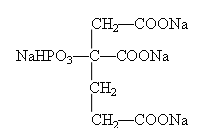 Properties:
PBTC•Na4 has low content of phosphoric, its structure contains both phosphonic acid and carboxylic acid group, which enable its good scale and corrosion inhibition properties. Its scale inhibition property under high temperature is far better than that of organophosph-ines. PBTC•Na4 can improve the solubility of zinc salt, has good chlorine oxidation tolerance and good composite synergy. The solid state is easy deliquescence.
Specification:
Items
Index
Appearance
Colorless to yellowish transparent liquid
White crystal powder
Active content (as PBTCA, % )
30.0 min

64.0

min
Active content (as PBTC•Na4, %)
40.0 min

8

5.0

min
Total phosphoric acid(PO43-%

, )

10.5 min
22.5 min
Fe, mg/L
-
20.0 max
Density (20℃) g/cm3
1.35 min
-
PH (1% water solution)
9.0-12.0
4.0-6.0
Usage:
PBTC•Na4 is the widely used and high effective agent as composite scale and corrosion inhibitor, it is also the excellent stabilizer for zinc salt. PBTC•Na4 is used as scale and corrosion inhibitor in circulating cool water system and oilfield refill water system, especially used together with zinc salt and copolymer. PBTC•Na4 can be used in situations of high temperature, high hardness, high alkaline and high concentration index, PBTC•Na4 is used as chelating agent and metal detergent in lavation fields.
PBTC•Na4 is usually used together with zinc salt, copolymer, organophosphine, imidazole and other Water Treatment Chemicals.
Package and Storage:
Liquid: 200L plastic drum, IBC(1000L),customers' requirement. Storage for ten months in shady room and dry place.
Solid: 25kg/bag, customers' requirement. Storage for one year in shady room and dry place.